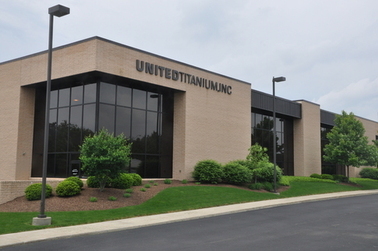 United Titanium, Inc. is a world-class manufacturer and supplier of specialty alloy fasteners, precision components, fittings and mill products. Located in our 135,000 square foot facility in Wooster, Ohio, USA, our dedicated staff of engineers, manufacturing and sales professionals work closely with our customers as a trusted partner to provide innovative solutions and services. Our customers demand the best and we deliver.
Manufacturing: Since 1962, United Titanium has manufactured fasteners and close tolerance, precision machined and forged parts from titanium and other specialty alloys. Using the most sophisticated, leading-edge manufacturing equipment and quality systems, our full-service manufacturing operation is able to meet a wide range of customer needs and industry specifications throughout the world.
Service Center: In 2005, United Titanium established itself as a premier domestic and international supplier of various sizes of Titanium (Grades 2 and 7) and Zirconium (Grades 702 and 705) mill products -- including bar, plate, sheet, pipe, tubing and fittings. Our exceptional industry knowledge, superior quality products and time critical shipment policy are the reasons why our mill products are used in commercial and industrial applications globally.
We are located at:
3450 Old Airport Road
Wooster, Ohio 44691 USA
United Titanium is a Registered Trademark of United Titanium, Inc